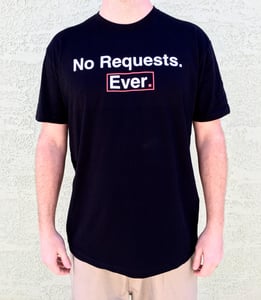 $

20.00
Collaboration with DJ Forge from Raleigh. I wore his original No Requests Ever shirt so much that we had to get together and make a RAPFAN edition, with the signature red box around the "Ever". Features both of our DJ logos on upper back.
E-mail djtrackstar@gmail.com with your choice of free mixtape, or receive one chosen for you:
RTJ2 Tour Mixtape (Run the Jewels, RatKing, Despot)
Jewel Runner Tour Mix (Run the Jewels, Boots, Fashawn, Cuz)
Shoes for Running tour mixtape (Killer Mike & Big Boi)
Best of Rick Rubin
Camp Lo / Pete Rock - 80 Blocks from Tiffany's
Prime Time: A Rap Fan's Guide to No I.D.